Have you been WISHING for your own personal Djinn power to make life easier for you? Have you been waiting for just the right vessel to appear and grant ALL your wishes?
It is here!!!

The Djinn Wish Box Talisman
Created by the Arabian Master Djinn Conjurer, Magician, and Mystic, Shaikh Mohammad Abdul-Alim!
This powerful Djinn Wishing Box was created by an Arabic Djinn Master Magickan and Mystic that was a friend and teacher of my Grandmother for many years and who now works with me to bring some of the most Powerful Djinn items available to those who might not have access to his services in the Middle East. This type of exceptionally powerful wish granting Genie Wish Box is one that this Master Mystic creates for many of his clients over the years, Clients who include some of the richest individuals in the Middle East

and

the world! He has worked on behalf of members of the Royal families of several Middle Eastern countries as well as wealthy business men and women of all creeds. In the Middle East working with Djinn to enhance your life is a given among those of wealth and power.


This Box is linked to the power of many Djinn, to ALL Djinn!

Millions upon Millions of the Djinn from
all Nations and ALL Tribes!
MILLIONS UPON MILLIONS OF DJINN AT YOUR SERVICE!!!!.

You use it as a message box to transmit your wishes to those that will work to grant them. It contains a direct link, a portal you might say, to the powers of the Djinn and to the Djinn realm. All you need do is to write your wish or wishes upon a slip of paper and place it within the box. Then carry or place the talisman box in a place of honor and wait for your wishes to begin manifesting into reality. You will begin to see opportunities arise before you as the Djinn manipulate situations in your favor. Watch for signs the Djinn are communicating to you and act upon them. Your life begins to change for the better as you work with the Djinn and are granted your deepest wishes!

Create your own destiny
with the Aide of the Djinn!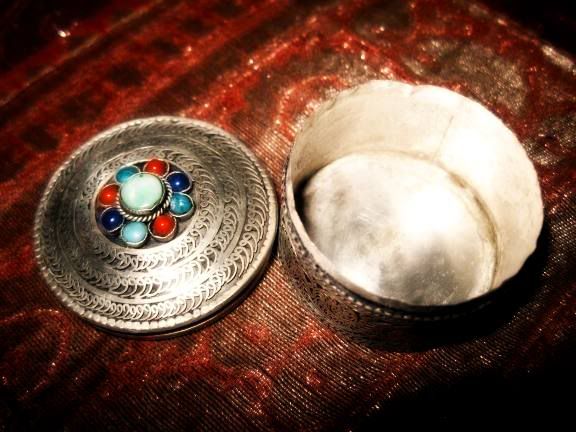 This Wish Box is perfect for one who wishes to call upon the powers of the Djinn

without having a permenant Djinn in residence

, without all the responsibilities and bonding time that being a Djinn Keeper entails.


CALL ON THE POWER OF THE DJINN!
A special point to notice about these beautiful silver wire-work boxes is the detail of the craftsmanship. The Sacred number 9 has been woven all through the design, nines on the lid repeated over and over, nine gemstones, turquoise, coral, lapis lazuli, stylized nines on the body. 3 X 3 equals 9 is a magickal number in the Mid East as well as in Kabbalah. Since each box is handcrafted they will vary slightly.
PLEASE NOTE: the boxes we have left at this moment though very similiar and from the same source-do have different stone configurations and more elaborate decoration than the box pictured--some designs are s

lightly

different.


Shaikh Mohammad recently sent us a number of Rare And Powerful Djinn imbued items including these special Djinn Wish Granting Tribal Amulet Boxes which are hand crafted of silver metal and studded with stones. He has indicated to me that now is the time for these particular Djinn vessels to move on to a lucky new keeper.
As the owner of this high level Wish Granting Genie Talisman Box you may find all your dreams and desires come to fruition. The Djinn will work ceaselessly on your behalf to attract and manifest all that you wish for. Allow them to add their many benefits and gifts into your life. They can grant your wishes of-----
PROTECTION FROM ALL NEGATIVE INFLUENCE
EXTREME MONEY DRAWING INFLUENCE
GRANTING OF ALL YOUR WISHES
PROTECTION FROM NEGATIVE INDIVIDUALS
BRING POSITIVE CHANGE BY WORKING WITH THEM
ATTRACT LOVE AND FRIENDSHIP WITH POSITIVE INDIVIDUALS

ATTRACT ALL MANNER OF POSITIVE INFLUENCES INTO YOUR LIFE

PROTECTION FROM DARK AND BLACK MAGICK
TURN AWAY EVIL ENERGIES AND ENTITIES FROM YOUR DOOR
AIDE IN MAGICK WORK AND CASTING
YOUR WISHES TRULY ARE THEIR COMMANDS!


CALL ON THE POWER OF THE DJINN!
BRING THIS VERY SPECIAL AND POWERFUL DJINN WISHING BOX TALISMAN INTO YOUR LIFE AND YOU WILL NEVER REGRET IT! THIS TRULY IS SOMETHING SPECIAL!
Listen for the Call of the Djinn as they will choose the ONE they sense they are destined to help for now and the future. It has been written in THE BOOK and foretold, NOTHING is by chance. If you are still reading this, you already have been influenced by The Power. The Djinn are calling out to the one they KNOW is their Wish Keeper. The ONE they are meant to grant ALL wishes too!


All our Magickal items and offerings are 100% satisfaction GUARANTEED!!!